Fraser warns of Scottish Poetry Library 'despoilment'
February 13 2014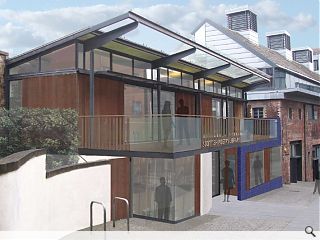 Malcolm Fraser, architect of the Scottish Poetry Library, has called on Creative Scotland to think carefully before agreeing to fund its 'despoilment' - following
submission of a planning application which calls for a radical expansion
of the collection.
The fall out follows a dispute between the architect and the library's board over how best to accommodate the institutions needs going forward, which led to the architect parting ways with the library – to be replaced by Nicoll Russell Studios when the brief was put out to tender.
Fraser said: "I drew a proposal for the library's board that radically re-organised the interior of the building, gaining a much more welcoming and flexible central space, a large new meeting room and gallery (which would further animate the sloping close) and space for a whopping 80 per cent more books. This met and greatly exceeded what their brief asked for; so imagine my bewilderment when the board's chair dismissed me, and went out and interviewed for new architects."
Giving his version of the spat in a design statement Robyn Marsack, director of the Scottish Poetry Library, said: "Design proposals were agreed with the original architect, on the basis of which a grant was received from Creative Scotland. After a discussion with CEC, interior reconfigurations as well as other options were explored over a long period of time; the final plan submitted by MFA did not meet the SPL's brief, in the view of the board, and MF resigned."
NRS's contentious plan calls for the creation of a new extension and forestair which Fraser described as betraying 'muddled thinking' which 'destroys' the front of the library and will result in the loss of a courtyard reading area and associated artwork.
"The perspective misrepresents the steepness of the site, flattening it out so that the awkwardness of how the proposed extension would meet the steep slope is blunted," Fraser lamented. "But it still shows the banality of the proposal – fine for a corner shop but not nearly good enough for a significant cultural institution in the Edinburgh World Heritage Site, and no justification for the loss of the forestair and courtyard reading area."
As a result Fraser is calling for Creative Scotland to think twice before offering financial support, saying. "The library building is arguably Creative Scotland's most effective single investment in the art of architecture – are they going to now fund its despoilment?"
The Scottish Poetry Library insists that its plan respects the original building.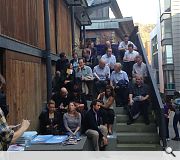 The external staircase can be used as an impromptu gathering space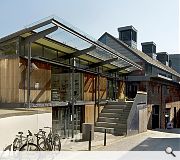 The library as it exists currently. It was the world's first purpose-built national poetry library upon completion 15 years ago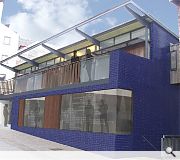 The library contends that it has outgrown the brief of its original build
Back to February 2014