French artist believes home on stilts concept has legs
February 12 2014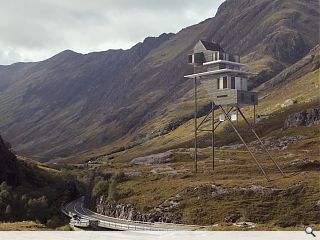 A French visual artist has unveiled a high concept design for a new Highland home, perched several stories up on a pair of stilts.
The Roost House might have seemed ideal for flood afflicted regions in the south of England but Challand has instead cast his eyes further north to the Highlands as a suitably lofty spot for his vision.
Challand faces an uphill struggle selling the proposal to prospective home owners however, as the only means of entry comes via a tortuous climb up a perilous ladder.
Commenting on the design Challand said: "It's designed like a privileged place, cut of the civilisation contact. Located in a landscape far from the human activity, the house's high level gives it the independence and appears to float in the air. From an exterior view, the stair access to the house is not visible which strengthens the utopic space notion.
"It looks like a ship in open sea isolated from the world, face to face with the elements and nature. The Roost House as a function compared to the other urban spaces is a space of illusion and tranquility. From the inside, the rising house and the wide open windows give an impression of unreal landscape."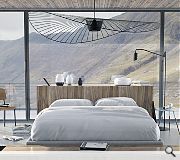 Challand has adopted a surprisingly traditional pitched roof form for the vertiginous property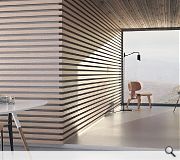 Residents will likely welcome the sight of their bed after hauling themselves up
Back to February 2014