BAE opens Clyde Shipyards consultation
February 11 2014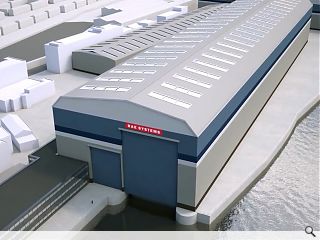 BAE Systems has opened the first of two public consultations into its proposals for future investment into its existing Govan and Scotstoun ship yards.
Taking place at the GTG training and conference centre between 13:00 and 19:00 today the exhibition will detail two possible options to the public, followed by a second consultation at the Pearce Institute on 13 February from 13:00.
The first option outlined encompasses a single site solution based at Scotstoun, which would see a 330m dock hall built alongside fabrication facilities and a quay, which would be delivered between January 2015 and 2017.
A second solution would be to split investment between the twin sites of Govan and Scotstoun by extending exosting ship halls and upgrading facilities in a phased programme between January 2015 and 2018.
Reorganisation is needed as the defence contractor seeks to downsize in the aftermath of a huge Royal Navy order for two new aircraft carriers, as well as to modernise working environments to bolster efficiency and competitiveness.
Charlie Blakemore, business and transformation director at BAE Systems Maritime said: "Our vision is to create 21st century complex warship capability that will deliver value for money for our customers and attract and retain the very best talent, helping to secure the long-term future of this highly skilled industry in the UK."
No decision on which option to proceed with is expected before the end of the year although planning applications for both proposals will be submitted by the end of March..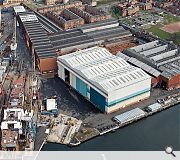 Govan would be closed completely in the event that a single site solution at Scotstoun is chosen
The Scotstoun yard as it exists currently
Back to February 2014