Forth Replacement Crossing south caisson takes shape
February 7 2014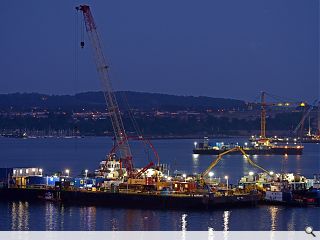 Work to build the concrete base of the Queensferry Crossing's south tower is proceeding apace with completion of what is claimed to be the largest continuous underwater concrete pour conducted anywhere in the world.
A total of 16,893m3 of concrete were delivered by barge from Rosyth Docks before being pumped into the foundation caissons during a 15 day operation overseen by Professional Concrete Pumping.
Carlo Germani, Forth Crossing Bridge Constructors project director, said: "The underwater concrete pour operation has gone without a hitch thanks to extremely detailed advance preparation carried out by the team.
"This achievement is a credit to the skills of everyone involved. It is a huge milestone for the project because it means that the focus can now switch from below the waves to the upward construction of the three towers above the waters of the Forth."
The three tower cable-stayed bridge will stretch for 1.6 miles upon completion at the end of 2016, rising to 207m above high tide.
Photo courtesy Forth Crossing Bridge Constructors.
Back to February 2014