Perth sports and leisure hub vision unveiled
February 3 2014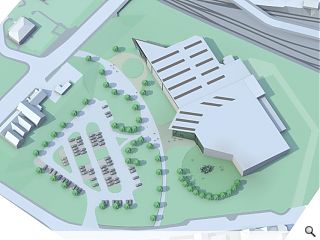 Plans to build a £25m sport and leisure hub in Perth have been unveiled by Live Active Leisure, which would see the existing Dewars Centre rebuilt to accommodate a swimming pool, fitness suite, ice rink and adventure play park.
Designed by AFLS+P the scheme will combine plant rooms to transfer waste heat from the ice rink to warm water for the main pool.
Nicola Lessells, deputy CEO of Live active Leisure commented, "PH2O offers a unique 'spend to save' opportunity. The present delivery model, over multiple sites which are beginning to show their age, is simply not sustainable.
"If we do nothing, income trends will fall and costs will rise, which clearly has dramatic financial implications as well as a negative impact on the quality and quantity of opportunities for our communities to live actively."
Mike Robinson, project board chairman for PH2O added: "We have some great expertise behind us including one of the best sports centre architects with a design team that delivered the London Aquatic Centre. The project board, made up of carefully chosen LAL directors and partner representatives, bring extensive experience in delivering large scale projects of this nature on time and on budget through working effectively in partnership. Perth Leisure Pool and Perth Concert Hall are examples that many will recognise."
The scheme is currently £15m short of its funding target.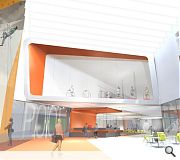 A new atrium will incorporate a rock climbing wall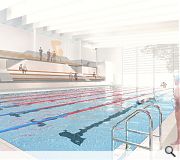 Perth leisure Pool and Dewars Centre are deemed no longer fit for purpose
Back to February 2014