Inverness hotel plan recommended for approval
January 16 2014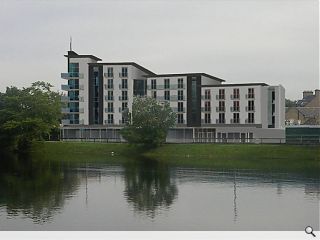 Highland Council planners have recommended that a
165 bedroom hotel in Inverness at Glebe Street
, overlooking the River Ness at Friars Bridge, be granted planning permission.
Drawn up by Keppie Design's Perth studio on behalf of Castle Rock the scheme incorporates a restaurant, bar, gym and conference rooms on the site of a former swimming pool which has lain derelict for over a decade.
It follows prior consent for a development of identical use, scale and massing in 2010, which lapsed earlier this year, but Keppie 'felt the scheme was just as strong now as it was when it was granted planning permission[' and so have left it unchanged save for the adoption of a flood alleviation scheme.
This takes the form of a riverfront block stepping up in height to seven storeys faced in white, silver and grey metal rainscreen cladding.
In their design statement Keppie say: "The design solution to this particular site is to develop a contemporary, landmark building, which resounds well to the water frontage and surrounding context.
"Particular attention has been paid to the creation of a visually interesting feature development on this arterial route within Inverness. The scale of the development respects the context and urban grain of the site, taking cognisance of and successfully addressing both the immediate views into the site from the pedestrian and vehicular routes along the riverside, Chapel Street, and the wider context of the area; creating a visually distinctive building within the site."
Highland Council will deliberate as to whether or not to give the scheme their backing during a meeting on 21 January.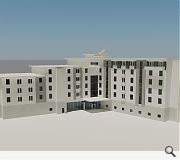 A feature spire is intended to emulate a number of riverfront churches
It is hoped the scheme will inject some vitality to a forgotten corner of the city centre
Back to January 2014