Ten climate change visions of the future unveiled in RCAHMS student comp
January 16 2014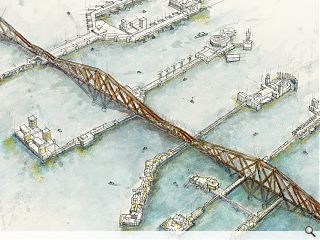 Ten watery visions of a future Scotland swamped by climate change have been unveiled by the Royal Commission on the Ancient and Historical Monuments of Scotland (RCAHMS) after they
laid down the gauntlet to students at Edinburgh College of Art to put pen to paper and imagine what this world might be like
.
Inspired by the pictorial esquisse style, popular in art colleges throught the thirties and forties,
Designed Spaces for Changed Places
was geared toward eliciting the immediate reaction of students to the brief by giving them just 48 hours to compose their entries.
This saw second-year master of architecture student Wynne McLeish emerge victorious with a striking portrait of the iconic Forth Rail Bridge bedecked in a series of floating piers to fend off rising sea levels, an approach which found favour with judges for its blend of fantasy and practicality.
McLeish said: "Having the liberty to design without thinking about planning or costings enabled me to have fun with creating a proposal that was based on pure design. As the brief specified Scotland as the location, I began by identifying our most iconic landmarks, thinking about how these might be affected by extremes of climate change and how they could be reconfigured to provide new adaptable living spaces for future generations."
RCAHMS plan to re-run the competition next year when it will be open to entrants from all Scotland's art colleges.
Back to January 2014