Whitbread to build two new hotels in Edinburgh's Caltongate
January 10 2014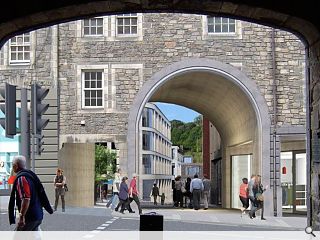 Whitbread has announced that it has reached agreement with Artisan Real Estate Investors to deliver a twin hotel development In Edinburgh's Old Town.
The deal will see a 127 room Premier Inn and a 130 room Hub by Premier Inn built on the
five acre Caltongate site
, with Lawrence McPherson Associates acting as architectural consultant for both schemes.
They will sit on adjacent plots overlooking East market Street and Cranston Street and will sit within a wider £150m development of public space, shops, restaurants, homes and offices.
Stephen McGhee, principal at Lawrence McPherson Associates said "This is an exciting development to be part of and we are particularly excited about being involved in the first Hub by Premier Inn being constructed outside London."
"This compact concept is innovative in its design. Not only are the rooms only 11.4sq.m with every centimetre optimised but it will be the UK's first hotel with its own app which allows guests to control temperature, lighting and TV from their smart phones."
Lukas Nakos, Artisan's managing director added: "High quality hotel provision will be the cornerstone of our development, and it's great to see how innovative leisure concepts such as the Hub will add vibrancy, excitement and colour to our plans. We will be placing strong emphasis on the quality of design and materials to ensure both hotels reflect their historic Royal Mile setting – as well as ensuring that the wider area benefits from the increased visitor spend."
Work on the scheme could start as early as mid-2014.
Back to January 2014