Edinburgh College of Art students embrace architectural fantasy competition
January 10 2014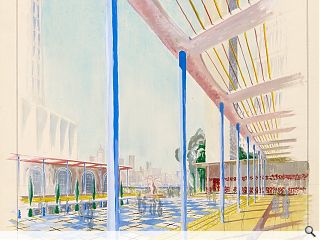 Students at Edinburgh College of Art are being challenged by the Royal Commission on the Ancient and Historical Monuments of Scotland to sketch out their architectural fantasies this weekend in a bid to rekindle the skills of fantasy drawing, known as esquisse, which was popular through the 1930s and 40s.
Around 30 students have stepped up to the plate to design a living space for a future Scotland suffering extreme climate change.
Students, who are being handed their brief today, have a mere 48 hours to hone their work so as to ensure an honest reflection of their immediate responses before submitting their final work on Monday.
Jane Thomas RCAHMS curator of architectural collections said "When our Skills for the Future trainee archivists were updating the catalogue for this Collection, they came up with the idea to challenge some contemporary art college students, to see whether the skills are still alive and flourishing today.
"When these beautiful esquisses were produced, it was considered important to understand buildings of the past so that the design of new buildings could take account of what had gone before.
"But after the WWII, the influence of International Modernism grew, bringing a major shift in architectural education and rejecting the Beaux Arts emphasis on drawing skills and studying buildings of the past.
"This meant that the style of buildings that were built by architects trained in the new way was very different."
The winning design will be chosen at the end of next week and will be exhibited by RCAHMS and accessioned into Canmore – Scotland's national collection of buildings, archaeology and industry.
A gallery of archive images from the heyday of the esquisse is presented below:
Back to January 2014