Gareth Hoskins publish Bird College designs
December 18 2013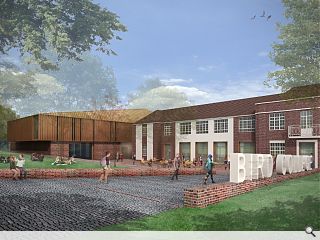 Gareth Hoskins Architects have published the first images of their
RIBA competition winning scheme
to design a new dance and drama studio for Bird College in Sidcup, South London.
The international competition was instigated by the performing arts college to fulfil a desire to rationalise its existing estate in the town to a single campus building.
In a statement the practice said: "In addition to refurbishing the existing inter-war school building, the project comprises a new 250 seat performance and teaching space, a 120 seat studio theatre plus up to 3000m2 dance and music studio spaces, with ancillary accommodation.
"The College aims to match the best within the sector and accommodate increased student numbers by creating an exciting new teaching and learning resource for the benefit of students, staff and the wider community."
Phase one works are due to move on-site by early 2015.
Back to December 2013