Demolition refused for B-listed former fireclay works
December 17 2013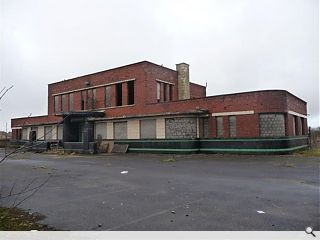 East Ayrshire Council has moved to refuse listed building consent for the demolition of a B-listed Southhook Potteries building on Kilmarnock's Western Road after agreeing with an Austin-Smith:Lord penned report which demonstrated it capable of repair and re-use.
In an email to East Ayrshire Council Gordon Mackie, senior heritage management officer at Historic Scotland, had previously indicated he was minded to consent its demolition, writing: "We note the deteriorating condition of the building outlined in the feasibility report, in particular the loss of much of the external historic, decorative fabric and the cost of reinstating this detailing. We also note that the building has been marketed for a considerable period of time.
"If your Council is minded to grant consent, we would not in this instance object."
Commenting on the building Greta Roberts told Urban Realm: "It is the former showroom/factory for Southhook Potteries. Shanks were famed nationally for making sanitary ware, tiles and glazed bricks. This building was finished in 1940 and is art deco. It has the look of an American Diner, but has been disused for well over 10 years.
"We have very few vestiges of Kilmarnock's industrial past left with Glenfield Kennedy and Johnnie Walker now gone. This is an iconic little building and could still be saved and given a new life."
It is hoped that proposals may now come forward to convert the building and adjoining land for new housing following failure of an earlier feasibility study which envisaged transforming the building,
listed on the Scottish Civic Trust's buildings at risk register
, into a call centre.
Back to December 2013