Edinburgh's controversial 'Garden District' master plan criticised
December 9 2013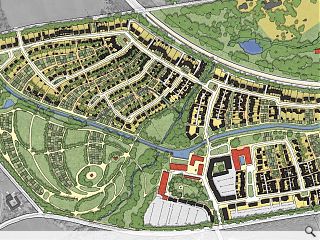 Plans to
erect 3,500 homes, together with business space and parkland
, on the outskirts of Edinburgh have set feathers flying before the master plan has even been submitted after the scheme was savaged by one of the city's leading architects.
Writing in The Scotsman
Malcolm Fraser called on officials to send the scheme 'packing' after observing that it was in 'the wrong place' and would serve only to disadvantage existing run-down areas of the inner city which are in desperate need of regeneration.
Fraser wrote: "The nice pictures are full of allotment sheds, wind turbines and happy children and even, sometimes, houses! Whether the nice pictures or the greater vision is deliverable, is another matter. Visions of butterflies and windmills tend to get sunk by dreary economics and turn-out to be Trojan Horses for the usual car-dependent suburbs with business and retail parks scattered about."
"Developers find building in our Craigmillars or Waterfronts a bit of a challenge. The costs are greater and the surrounding communities not the sort of address it is easiest to market. Their costs are lower on farmland – but the long-term costs to the public purse much greater, with our taxes carrying the greater infrastructure costs of car growth, bus and bin lorry routes and schools needed, while also carrying the price of social decline in our city sites, closing down schools and financing regeneration initiatives."
Dismissing suggestion that such developments are a necessary evil to meet an acute housing shortage or to provide family accommodation unsuited to more urban environments Fraser claimed such attitudes betrayed an 'American' way of thinking that was 'divisive' for pigeon holing cities as… "fit only for 'Sex and the City' sophisticates or a poor or immigrant urban underclass."
Murray Estates have now concluded a charette process overseen by Andres Duany and will submit a master plan, grounded in the 'best Scottish traditions' shortly. This will call for creation of three 'villages' based around business, Heriot-Watt University and a planned National Garden.
Back to December 2013