Macallan whisky unveils £100m Rogers designed distillery
November 29 2013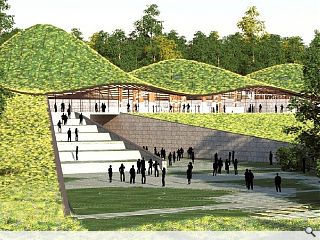 Scotch whisky producer the Erdington Group has announced its selection of a Rogers Stirk Harbour + Partners design for its planned £100m distillery and visitor centre for The Macallan whisky brand.
Intended to embody 'craftsmanship, attention to detail and innovation' the new Speyside distillery has been designed to complement the Jacobean Easter Elchies House on the Macallan Estate, whilst ramping up production capacity.
This sees Gillespies tasked with drawing up a landscape strategy for the area that includes a giant green roof rising above the Speyside countryside to conceal the industry below.
Graham Stirk, senior partner, Rogers Stirk Harbour + Partners said: "We are delighted to be working with The Macallan to realise their vision for the new distillery. This is a rare and fascinating project set within a great parkland estate. Our aim will be to reveal both the mystery of the place and the process, within this dramatic setting."
Rogers was reportedly chosen from an invited shortlist that included Foster & Partners, Herzog & de Meuron and David Adjaye - but the Erdington Group declined to confirm this or say whether any Scottish practices were included when contacted by Urban Realm.
Commenting on this apparent omission Malcolm Fraser said: "Whisky trades on its Scottishness but is, I'm afraid, almost all multi-national corporate owned. So I'm disappointed, but not surprised, if they didn't think to ask a Scottish practice or two onto the shortlist."
Should planning consent be forthcoming work could commence in autumn 2014 for completion in spring 2017.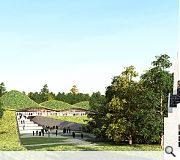 The flamboyant new distillery is intended to sit at ease with the Speyside landscape and Jacobean Easter Elchies House
Back to November 2013