University of Strathclyde students complete live-build 'shelters'
November 21 2013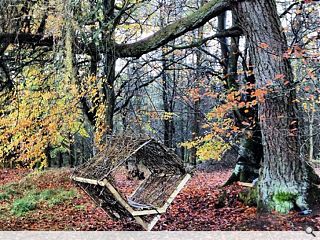 A team of first year architecture students from the University of Strathclyde have completed work on 12 live-build 'shelters' at Wiston Lodge, South Lanarkshire.
Mirroring last year's brief of providing shelter
, the exercise saw students liaise directly with the 'client' to whittle down 100 initial designs through a selection process that incorporated verbal presentations.
Built in pre-selected locations throughout the 52 acre estate using local materials such as willow, logs and rope each structure was designed and delivered over a period of two weeks by separate teams working on a shoe-string budget.
The use of sheet timber meant less pre-fabrication was required, thus maximising time spent on site, with pre-ordered components transported to site for assembly during a single day of construction.
Year 1 director Derek Hill commented: "Our relationship with Wiston Lodge continues to grow and the department of architecture project office is now developing proposals for SiteLabs and teaching pods within the grounds which will see Year 4 and Year 5 students delivering design development, fabrication and construction over the course of 2014."
Back to November 2013