Morgan McDonnell Architecture unveil New Town office scheme
November 20 2013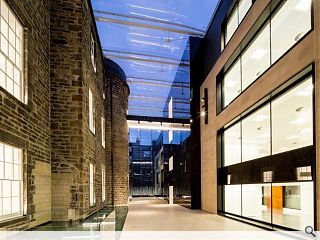 Morgan McDonnell Architecture have completed work on behalf of Corran Properties on the refurbishment and new build extension at
26-31 Charlotte Square
to provide grade A office space at the heart of Edinburgh's New Town World Heritage site.
Designed to blend period grandeur with modern technology the project entailed refurbishment of six townhouses, repairing details such as cornicing whilst upgrading the building services to suit client requirements.
A new atrium roof bridges old and new elements and is composed of lightweight ETFE pillows, last seen at Foster's Hydro Arena, to allow steel supports to be shrunk to the slimmest dimensions possible and thus deferring to the existing Georgian architecture.
Guy Morgan, director Morgan McDonnell architecture commented on the build: "The palace facades that Robert Adam designed are pretty much intact so there's a responsibility to deal with those in a very respectful way.
"One of the key challenges was getting a 200 year-old building to work as a modern office space. Anybody walking into these buildings would just see a classical space and they wouldn't appreciate what's going on behind the scenes. But we've re-cabled all of the town houses and put in air conditioning to make them fit for purpose.
"In one of the townhouses they'd driven a lift shaft through where the original stair had been. We took out all of those unsympathetic interventions and replaced them with a contemporary glass and steel stair, in exactly the same proportions as the original."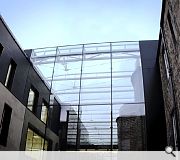 A light filled atrium sits at the heart of the scheme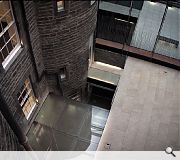 Corran properties engaged with Edinburgh World Heritage at an early stage in the design process
Back to November 2013