Nord win Andrew Doolan Award with Wasps South Block
November 7 2013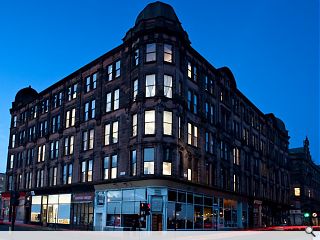 Nord Architecture has won the Andrew Doolan Award 2013 for their work designing
WASPS South Block
, Glasgow, after a panel of judges plumped for the warehouse conversion as the 'clear' winner from a shortlist of a dozen projects.
Their decision nets Nord a custom cast gold medal in addition to a cheque for £25k, the highest remuneration of any UK architectural award.
In their citation the judges wrote: "This building points towards an architecture of humanity rather than show. It defines a new set of principles where the architect is, above all, the orchestrator of spatial constructs that offer opportunities for a life lived with greater social sympathy. The building is peppered with moments of generosity that delight and enchant. Whether NORD Architecture is seen as interpreters of their client's visions or as curators of atmospheric working, this building is an architectural gift worth emulating.
"NORD has crafted and choreographed the renovation of this existing building with extraordinary rigour. With great sensitivity and the slimmest of budgets, the architects have produced a specific environment for creative industries. Normally office buildings speak of generic environments. Here, within a tailored set of spaces, interaction and the promise of collaboration is easy to imagine."
In addition to the main winner five projects were singled out for a special mention; namely Simpson & Brown's Chapel of St Albert the Great; Reiach & Hall's Stirling campus for Forth Valley College; Edo Architecture's Ghost of Water Row; Schmidt Hammer Lassen Architects Sir Duncan Rice Library and Patience and Highmore for the Thomas Telford Parliamentary Church.
Father Dermot Morrin also received an inaugural client award for his role in commissioning the Chapel of St Albert the Great.
This year's judging panel included Karen Anderson, chair of Architecture and Design Scotland, Christophe Egret of Studio Egret West and Indira Van't Klooster, editor of A10 Magazine, with Professor Andy MacMillan reprising his role as chair.

Wasps South Block images provided by Dapple Photography
Back to November 2013