Edinburgh Centre for Carbon Innovation completes
November 6 2013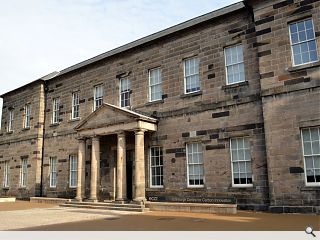 The University of Edinburgh, in partnership with Heriot-Watt University and Edinburgh Napier University, have taken possession of the
Edinburgh Centre for Carbon Innovation
– the world's first carbon research hub.
Designed by Malcolm Fraser Architects and built by Graham Construction the £10.5m facility unites business, government and academia in the pursuit of solutions to the problem of transitioning to a low carbon economy.
Housed within a remodelled and extended Old High School the centre us expected to become one of the first refurbishment projects in the UK to earn a BREEAM Outstanding rating thanks to such measures as recycling 'grey water', solar controlled glazing and the removal of air conditioning.
Lead architect Calum David commented: "In developing the proposals for ECCI we had to consider one of the key architectural or societal issues we are currently facing - how to manage the balancing act of reducing future carbon emissions with the need to reuse existing buildings being mindful of their historical importance; and at the same time to endeavour to create spaces which are characterful, vibrant, flexible and a pleasure to use."
The completed building plays host to a range of lecture theatres and seminar rooms together with an innovation suite and central atrium space for exhibitions, events and socialising.
Photography provided by Graham Construction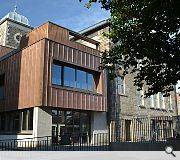 Mechanical systems have been supplanted by passive alternatives together with an innovative timber frame structure
Back to November 2013