Demolition commences on Aberdeen's St Nicholas House
October 9 2013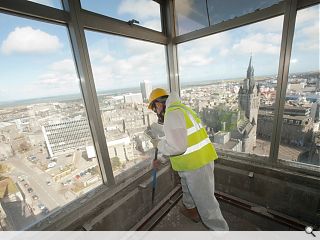 Work to raze the 13 storey former home of Aberdeen City Council has begun in earnest with contractors moving on site to dismantle the city centre landmark floor by floor.
Four remote control demolition machines will be hoisted onto the roof of
St Nicholas House
to begin 'nibbling' the concrete in propped levels in a process expected to take around two weeks per floor.
This follows earlier work by Safedem to strip back the structure of all soft fittings.
Deputy council leader Marie Boulton said: "This is a historic moment for Aberdeen. Love it or loathe it, the St Nicholas House tower has been a prominent feature of the city's skyline for almost 50 years. Over the coming weeks we will see it steadily reduced until nothing remains of the monolithic building.
"I am pleased to see the demolition project progressing so well and the site being cleared in readiness for an exciting new development and a new chapter in the city's history."
Project manager Andrew Sproull added: "The demolition of St Nicholas House is a major project and involves effectively deconstructing the building. The work presents challenges because the building is in such a constrained site in the middle of a busy city centre, which is why we have opted to take the tower down floor by floor in a very safe and controlled manner.
"Safedem will work on the floors in an agreed pattern of demolition by bringing one floor down onto another floor, clearing the material and then pulling down the supporting columns before moving down to the next floor."
Demolition is scheduled to conclude in the spring of 2014 whereupon work will begin on a
Muse penned scheme
for the site.
Photography by Norman Adams, Aberdeen City Council.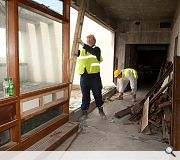 Aberdeen City Council recently decanted to Marischal College, located across the road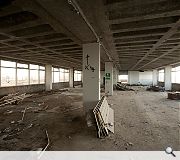 Floors will be propped and dismantled with rubble dropped down lift shafts
Back to October 2013