George Square re-opens following facelift
September 30 2013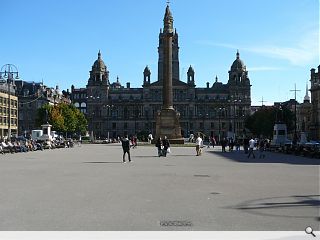 Glasgow's revamped George Square has been opened to the public by the city council, culminating an
ignominious renewal process
.
The £500k project has seen the reinstatement of two grass beds ripped out in the 1990s and removal of a red asphalt surface in favour of a grey resin alternative which can accommodate outdoor events.
It has also seen the square's complement of statues and memorials cleaned and repointed and the number of public benches more than doubled while a number of conifers have been cut down around the Cenotaph.
Liz Cameron, the council's executive spokesman for jobs and the economy, said: "The grey surface drastically improves the look of the square and I am confident everyone will be glad to see the back of the red Tarmac.
"We have taken the opportunity to cut back some of the trees around the Cenotaph, as they were in danger of encroaching on to the monument.
"We have now introduced more attractive looking plants to the side and also around the Sir Walter Scott Monument. The two grass beds on the western side of the square have also returned, ensuring a greener square at the very heart of our city."
Designed to tart the area up ahead of the 2014 Commonwealth Games the works presage implementation of a £15m package of works in the immediate aftermath of the sporting jamboree.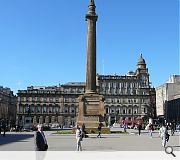 George Square had become an embarrassment to the city as it prepares to welcome the world next year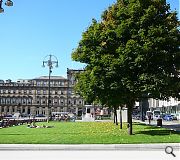 The sober refresh seeks to put recent travails firmly in the past
Back to September 2013