Zambian school hall project opens its doors
September 5 2013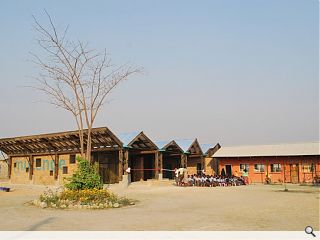 A two month long charitable construction drive to deliver the
Mutende Childrens Village
near Chingola, Zambia, has concluded with the unveiling of the completed hall.
Designed to provide facilities for the care of orphans and abandoned children the flexible space can be subdivided into three classrooms, an office and IT space.
Costing £36k it is the latest phase of works carried out on behalf of Harold Mwenge Memorial Academy and is the fourth project to be built by the non-profit humanitarian design studio in the region.
James Mitchell, project director at Orkidstudio, told Urban Realm: "The project was a huge success and we were incredibly pleased to complete the 350sqm build in just 7 weeks with a team of 10 young volunteer architecture students from schools across the UK plus three of the Orkidstudio team, including myself. We were joined on site by a small handful of the local community as well which was wonderful."
Back to September 2013