Star of Caledonia scale model unveiled
September 3 2013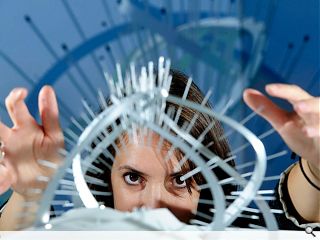 A scale model of the planned Star of Caledonia artwork for the Scotland/England border at Gretna has been unveiled by Environmental Art Festival Scotland.
De-marking the border between the two nations which has existed since the 16th century the project is being masterminded by artist and designer Cecil Balmond in collaboration with land artist Charles Jencks.
Jan Hogarth, co-producer of EAFS, said: "This festival is all about the future – raising questions about art, politics, the environment and sustainable living. It's also about having fun.
"It was fantastic to be able to unveil the new scale model of the Star of Caledonia, so people can start to get an idea of what it will look like when complete. It's a really exciting project and this feels like it has taken another step towards becoming a reality."
Construction of the motorway landmark is currently on hold awaiting funding.
Image taken by Colin Hattersley
Back to September 2013