Scottish Water complete £7m Loch Katrine aqueducts upgrade
|
Send to friend
August 12 2013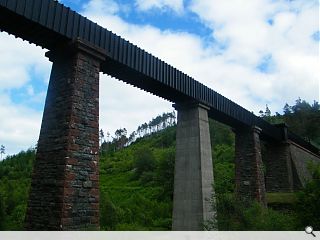 Scottish Water has completed a £7m project to upgrade a network of Victorian tunnels and aqueducts, which direct fresh water from Loch Katrine to Glasgow.
Working in consultation with Historic Scotland the capital maintenance project saw two 26 mile long aqueducts and 21 bridges overhauled – including a total of 30 listed structures.
John Rae, Scottish Water's operations manager, said: "These aqueducts, which were part of a scheme opened by Queen Victoria in 1859, were a feat of engineering of their day and remain an outstanding example of sustainable civil engineering public works construction, which have stood the test of time.
"But, despite some improvement work over the years, they required substantial capital maintenance to ensure they continue to operate efficiently."
Simon Renton, project manager at the utilities firm added: "Strict adherence to constraints and restrictions was necessary to ensure that the character of the historic structure was preserved.
"Reconstructed areas of masonry on every part of the structure had to match the existing stonework in terms of appearance and painting and protective coating systems were carefully chosen to blend with the surrounding structure."
Back to August 2013