Richard Murphy's Quartermile social housing completes
July 22 2013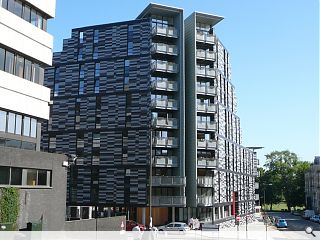 A £23m social housing complex at the heart of Edinburgh's Quartermile development has been unveiled by Richard Murphy Architects, as the first tenants pick up the keys to their new homes.
Delivered on behalf of Quartermile and Hillcrest Housing Association Q10 constitutes the affordable housing component of the former Edinburgh Royal Infirmary master plan and incorporates a ground floor nursery, scheduled for completion by Christmas.
Organised around an octagonal central courtyard, accessed from a double height opening fronting Chalmers Street, the scheme rises to five storeys around its central court before stepping up in height to culminate into two ten storey corner towers.
Explaining the rationale behind this move the practice said: "This layout has been developed to maximise daylight into what is, of necessity, a relatively densely designed scheme but also to create a courtyard as a social heart to the scheme based on models of similar sized city blocks in Berlin and other European cities.
"In addition it offers tenants in the upper storeys the views of the Meadows and beyond enjoyed by buyers of the other flats on the overall site. The intention throughout has been to try and maintain the amenity of all flats, maximising light and view whilst minimising the number of single aspect flats in favour of dual aspect or corner flats wherever possible."
Back to July 2013