Student regeneration schemes recognised with GCHT award
July 18 2013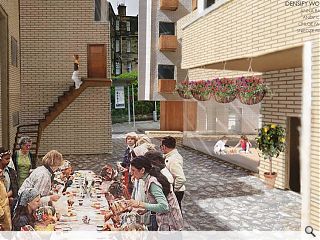 Glasgow City Heritage Trust has named the winners of its architectural heritage conservation and regeneration prize, established to reward Glasgow students who identify ways in which underutilised sites can be brought back to life and improve access.
Awarded to students undertaking end of year projects the prize was split this year between two different projects; one from the Glasgow School of Art and the other from the University of Strathclyde.
Representing the former were Andy Casey, Chloe Fawcett, Anna Barbieri and Sniedze Riekstina who authored 'Density Woodlands', a regeneration scheme for tenement courtyards. Illustrated by a Woodlands Road prototype it identifies how these under-utilised spaces could be transformed through new housing, retail and work units.
Representing the University of Strathclyde was Peter Harford-Cross whose 'Weather, Water and Place' winning entry focused on the River Kelvin as it meets the Clyde. The former industrial area is currently inaccessible to the public, inspiring an extension of the Kelvin walkway to the Riverside Museum.
Harford-Cross, said: "As one of the UK's most architecturally stimulating cities, Glasgow has much to offer. I find it surprising that the unique and historical lower River Kelvin has been passed by as a place for re-development. A new river walkway could create new connections between the West End and the City Centre as well as celebrate Glasgow's rich industry which once thrived here."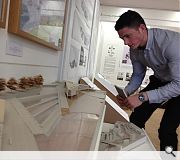 hartford-Cross wants to reclaim a neglected no-man's land on Glasgow's waterfront
Back to July 2013