2013 Stirling Prize shortlist announced
July 18 2013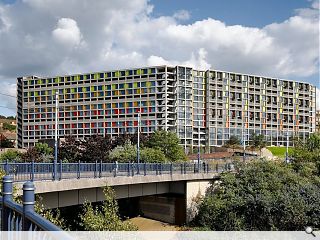 The Royal Institute of British Architects have unveiled their shortlist for the 2013 Stirling Prize for the best new building.
This sees six diverse buildings (including two from Ireland, four from England but none from Scotland) go head to head for the prize; including a colourful re-interpretation of a drab 1960's tower block in Sheffield and a new housing development at Newhall Be which injects some excitement into Essex suburbia.
Other projects competing for the gong include an imaginative holiday home inserted within the burnt out shell of the 12th century Astley Castle, the highly detailed Bishop Edward King Chapel; the monumental Giants Causeway Visitor Centre and understated student housing at the University of Limerick Medical School.
Angela Brady, president of the architect's body, said: "The UK is blighted with unimaginative, poor quality houses that people don't want to live in but have little other choice, so I am delighted to see two amazing and highly original housing projects on this year's shortlist.
"These projects show how when talented architects and clients work together and focus on quality, affordable and desirable new homes can be created."
This year's winner will be announced on the 26 September.
Stirling Prize shortlist
:
Giant's Causeway Visitor Centre, Northern Ireland by heneghan peng architects.
Park Hill Phase 1, Sheffield by Hawkins\Brown with Studio Egret West
Newhall Be, Harlow by Alison Brooks Architects
Astley Castle, Warwickshire by Witherford Watson Mann Architects
University of Limerick Medical School by Grafton Architects
Bishop Edward King Chapel, Oxfordshire by Niall McLaughlin Architects
Back to July 2013