Arctic Council puts ESALA student on top of the world
July 5 2013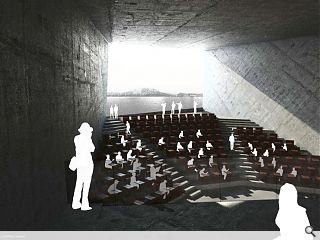 An Edinburgh School of Architecture and Landscape Architecture student has earned some northern exposure after winning a RIAS & A+DS student architecture award with a dramatic proposal for an Arctic Council in the Icelandic capital of Reykjavic.
Melissa Lawson joined a number of other category winners; including a salt-park in Saltcoats, hydrobath in Culzean Park, the regeneration of Olbia in Sardinia, urban housing in Glasgow and a reworking of the banks of the River Kelvin, with the Rowand Anderson silver medal for best 5th year student at the Scottish Student Awards.
This recognised the novel desogn work needed to represent the interests of eight states that lie on the edge of the Arctic Circle – Canada, Finland, Greenland, Iceland, Norway, Sweden, the US and Russia.
Commenting on the winning design the judging panel said: "An elemental approach to a landscape of harsh geology, this scheme considers geopolitical sustainability and proposes a response in a beautifully drawn proposal which is abrupt, angular, cold, hard and thoroughly appropriate."
The barren landscape of Iceland has provided fertile ground for students recently coming shortly after
David O'Reilly's win of an International Archiprix award
for a glacier Mausoleum on the island.
All winning work will be on public display at The Lighthouse, Glasgow, until 29 September.
Full list of winners:


Best 3rd Year Student:
Emmeline Quigley – Mackintosh School of Architecture
Salt-Park, Saltcoats and Hydropath, Culzean Park

Urban Design Award:
Ryan J Hodge and Douglas J Wright – ESALA
Blue Lunacy: Salt Lines and the Olbian Lamprey, Olbia, Sardinia
AND
Louise Gydell, Mari Nysveen Hullum, Angela McIntyre, Nicola McLachlan, Sucy
Murniayi, Liam Potts and Martin Sunjic Bertoni - Mackintosh School of Architecture
Lanes, Courts and Community, Urban Housing Project, Merchant City, Glasgow

Award for Sustainable Design:
Peter Harford-Cross – University of Strathclyde
Weather, Water and Place, Banks of the River Kelvin, Glasgow

Drawing Award:
Bruce Doran – Mackintosh School of Architecture
Salt-Park, Saltcoats and Hydropath, Culzean Castle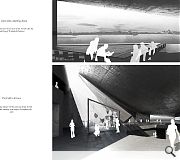 Judges described the work as 'beautifully drawn'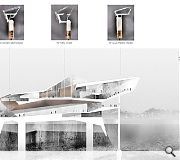 The scheme would help square the circle of competing national interests for the Arctic's abundant resources
Back to July 2013