See in the summer with the latest edition of Urban Realm magazine
July 5 2013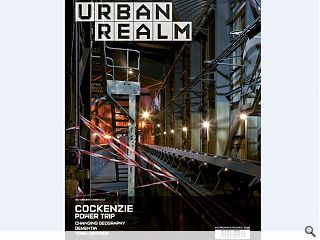 With the economy on the mend and even the sun threatening to reappear things are starting to look up for our built environments for the first time in years, as the latest edition of Urban Realm attests.
This is particularly true of our towns which have for too long languishing down the back of the policy couch. With publication of the Scottish Government's town centre review this could be about to change as we discovered when catching up with its author, Malcolm Fraser, in Cumbernauld.
In a similar vein yellow book's John Lord explores the rapidly changing fabric of urban Britain in 'Changing Geography', a look at the technological and social changes which have done so much to profoundly alter the composition of our places and spaces – and which are set for further transformation.
Nowhere is this change more apparent than in the energy sector where, in a corollary to the fast spread of wind farms, some of our ageing coal plants are set for decommissioned. Notable amongst them is Cockenzie which receives a fond farewell courtesy of Mark Chalmers.
It's been a busy quarter for new completions as well with reviews of Mareel, Shetland Islands; The Beacon Arts Centre, Greenock and Liverpool's Central Library.
See all this and more by picking up your copy today from kasia@urbanrealm.com or calling 0141 356 5333.
Back to July 2013