Glasgow unveils plans to transform Sighthill into 'bike town'
June 20 2013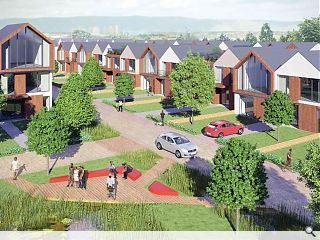 Glasgow City Council's cycling tsar, Frank McAveety, has unveiled plans to remodel Sighthill as a purpose-built 'bike town' in support of a
2018 Youth Olympics bid
.
A major redevelopment of the 1960s estate is planned as part of efforts to bring the sporting event to the city, demolishing five tower blocks and replacing them with 830 homes, shops, a square and school.
Now McAveety has called for a cycling strategy to be devised for the new district, giving cyclist's priority on its roads and creating a green network of paths and bridges to open new routes between the city centre and surrounding areas.
It follows a fact-finding visit to the Dutch town of Houten, which has banished vehicles to an outer ring-road and encouraged cycling by connecting residential areas to an expansive network of cycle paths.
McAveety said: "We need to raise our aspirations. In places like Houten people cycle and never see a car. Toddlers cycle, pensioners cycle, the environment's safe. The main form of transport is cycling.
"We will be spending substantial sums redeveloping Sighthill and even if just a fraction of the total goes on cycling-friendly provision it would transform our quality of life and sustainability."
Back to June 2013