Mary Rose Museum opens its doors
May 30 2013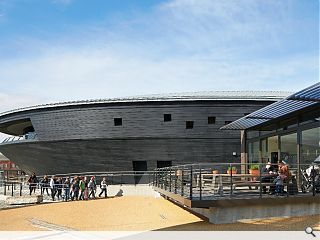 The Mary Rose Museum, a purpose built visitor attraction for the famous Tudor warship raised from the seabed in 1982, has been officially opened.
Located within metres of Nelson's flagship, HMS Victory and working vessels from today's Royal Navy, the museum is intended to open a window onto Tudor life as the centrepiece of Portsmouth's historic dockyard.
The £35m project will facilitate on-going conservation work to the 16th century warship, the only vessel of its kind displayed anywhere in the world and
culminates a 30 year period of planning since the hull was first raised
.
Built by Wilkinson Eyre Architects and Pringle Brandon Perkins+Will interior designers the building takes the form of a wooden 'jewellery box' which envelopes the hull. Artefacts are arranged by theme and correspond to individual decks just prior to her sinking and are viewable through airtight glazing to allow temperature controlled, dried air, to be directed across all parts of the vessel.
Chris Wilkinson, founding director at Wilkinson Eyre Architects, said: "When you have a treasure like the Mary Rose, which continues to capture the world's imagination, the architecture of the building takes a supporting role. However, the building has a very significant part to play in projecting the Museum and its remarkable collection to the world, creating intrigue and heightening the visitor experience of this major cultural attraction."

Photography by Hutton + Crow / Gareth Gardner.
Back to May 2013