Antarctic architecture exhibition to document extreme design
May 21 2013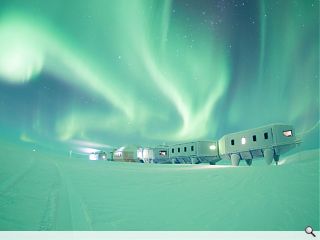 An Antarctic architecture exhibition commissioned by the British Council is to premiere in Glasgow, the Lighthouse architecture centre has announced.
Ice Lab: New Architecture and Science in Antarctica will document five different research station designs for the polar region, providing visitors with a unique perspective of the inspiration and creativity needed to create architecture in Earth's coldest, windiest, driest and most isolated environment.
Five designs, including Hugh Broughton Architects newly opened Halley VI research station for the British Antarctic Survey, will be put on show in the form of drawings, model work, photography and film - alongside explanations of live research work from astronomy to the retrieval of meteorite samples and drilling of ice cores.
Vicky Richardson, director architecture, design, fashion at the British Council, said: "The new wave of Antarctic research stations show the inventiveness in design and engineering required to build in Earth's most extreme conditions. In the same way that scientists from around the world collaborate in Antarctica, these buildings are made possible by cooperation between nations…"
Jim MacDonald, chief executive of Architecture and Design Scotland, added: "By exploring a series of innovative building projects in one of the harshest climates on earth, the exhibition can help us develop ideas on sustainable design for our own changing and challenging climate."
The exhibition will premiere in the Lighthouse, Glasgow, from 26 July to 2 October before moving to Manchester and then overseas.
Back to May 2013