Europe's first electricity grid research centre opens
May 17 2013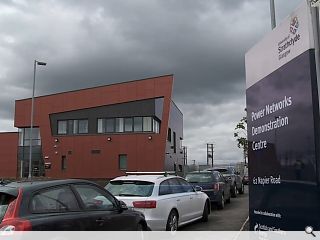 The University of Strathclyde has unveiled its
Power Networks Demonstration Centre
in Cumbernauld, the first electricity grid research centre in Europe.
Stretching to 900 sq/m the £12.5m facility will undertake research into the delivery of secure, reliable and green electricity through new technology and processes and house a range of control and simulation systems as well as its own reconfigurable power network, independent from the National Grid.
Commenting on the design BMJ stated that: "The building form lends itself to a sharp high-tech solution and externally the metallic ?nish was selected to convey the new and innovative energy technologies."
Frank Mitchell, CEO of ScottishPower Energy Networks, said: "The Power Networks Demonstration Centre is a state-of-the-art facility that has an important role to play in helping to drive innovation and develop the Smart Grid required for the 21st century. Smart Grids will allow many more customers to install distributed generation, support electric vehicles, reduce carbon emissions and improve services for our customers."
Back to May 2013