Campaigners call for Scottish Government review of Gourock Central plans
Send to friend
* Required fields
|
Send to friend
May 10 2013
Critics of a
£4.7m plan drawn up by Inverclyde Council and Riverside Inverclyde
to transform Gourock town centre are calling on the Scottish Government to call the scheme in for review over claims that the scheme hasn't been subject to proper scrutiny and is incompatible with current planning policy.
Superseding an earlier 2011 proposal the plans, developed by Hirst Landscape Architects, relate to 3.1 ha of land between Gourock Station, the foreshore and Kempock Street and would see a new one-way system introduced alongside new and enhanced public spaces.
This was subject to a series of public consultations and much debate at the time but opponents argue that the revised scheme is 'entirely different in scope' from the original and are critical of various changes, including the scrapping of a new access road, asserting that the new plans have 'never been subject to any external scrutiny'.
Local resident Barry Macphail, owner of the Hub, a creative workspace for young people, told Urban Realm: "Riverside Inverclyde was told to develop proposals for another scheme, incorporating a new road and a one-way system. The intervention requires a further £2m, from Inverclyde's taxpayers, on top of the original £2.2m project budget; but it has never been scrutinised. Plans were changed without any data to support claims about the need for a new road system (to resolve perceived congestion), or the effects, adverse or otherwise, that it might have.
"At the planning application stage, planning officers couldn't question the suitability of a design that was the brainchild of the chief executive. As a result the work they did only served to facilitate the approval of the scheme. Much like Riverside Inverclyde their role became that of an agent."
A council spokesperson responded: "There was an initial, smaller scale proposal which was consulted on by Riverside Inverclyde in August/September 2011. The possibility of a one way scheme was one of the items discussed during that consultation and the new scheme was agreed by the council's regeneration committee on 27 October 2011.
"This proposal was, like the first, also put out to public consultation by Riverside Inverclyde. This one took place in December 2011."
Council leader Stephen McCabe concedes that the plans have stimulated 'considerable debate' but has vowed to press ahead with the scheme before the year is out saying: "This development has been a long time coming and has created considerable debate amongst local politicians and the community. However I think it is a balanced proposal and one that will improve traffic flow through Gourock, will enhance available parking for residents and visitors and will improve the overall public realm."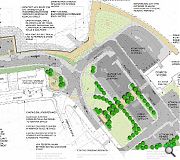 A huge swathe of the town centre would be affected by the plans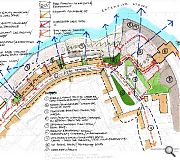 The area around Gourock Station is currently a liability for the town
Back to May 2013