Commonwealth Games retail & leisure park put on ice
May 2 2013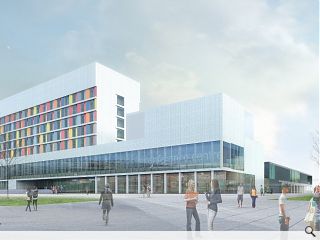 Plans to erect a
£44m retail and leisure park
adjacent to Glasgow's Emirates Arena and Sir Chris Hoy Velodrome have been placed on hold following a dispute between the developer and Glasgow City Council.
Kevin Fawcett had committed to purchase the key parcel of land from the council after submitting a planning application for the project, drawn up by Reiach & Hall, in February of last year - but as yet has failed to do so.
Explaining his reasoning to the Evening Times Fawcett said: "This complex is fully-funded and 95% pre-let, including a deal with Tulip Inn for the hotel. Our investors are saying 'Let's go' and are totally ready to begin work.
"However, they can't proceed until they get essential paperwork, standard documentation, from the council saying the site is clean, or, if it is not clean, that there are warranties for it.
"The fact the council can't give us this necessary paperwork is very sad and very strange."
For their part GCC insist that the land has been decontaminated but are refusing to issue paperwork to that effect, claiming that the request to do so is a 'delaying tactic'.
With the clock ticking toward next summer's sporting extravaganza it is now thought to be impossible for the developer to deliver the project prior to the event.
Back to May 2013