Keppie's Dumfries Royal Infirmary wins approval
April 29 2013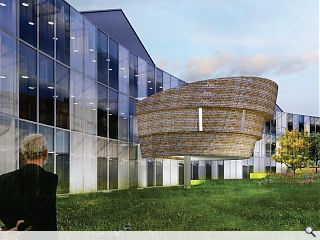 Plans to erect a
replacement Dumfries & Galloway Royal Infirmary
have been approved in principle by planners, clearing the way for detailed designs to be drawn up for the £200m hospital.
Located on land at Garroch Farm the scheme will host its own energy centre and necessitate construction of an internal road network to accommodate traffic
according to the outline plans drawn up by Keppie
.
Jeff Ace, chief executive of NHS Dumfries & Galloway, said: "NHS Board has already approved our Outline Business Case and the planning application was the final local stage in the process to be negotiated before we submit our proposal to Scottish Government. We anticipate that the Government's Capital Investment Group will now formally review the case in May."
Subject to the necessary consents a preferred bidder for the detailed design and construction of the scheme will be selected next year with construction on the 350 bed facility commencing in spring 2015.
It is hoped that the facility will serve as the regions new acute hospital when it opens its doors to patients in 2017/18.
Back to April 2013