Latest George Square facelift proposals unveiled amidst RIAS/GCC infighting
|
Send to friend
March 18 2013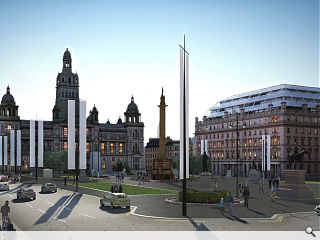 Glasgow City Council has released an artist's impression of its toned down plans for a £15m renovation of the public space in the wake of its abortive design competition –
formally ending any prospect of John McAslan's winning scheme being brought forward
.
The inhouse plans are currently under consideration by councilors and would entail repaving the Square's red tarmac with grey epoxy resin at a cost of £500k between July and September.
Two grass beds on the western side of the square will also be returned and feature lighting introduced to the statues and trees within the square.
Following the 2014 Commonwealth Games a more substantial intervention will be implemented, including a more permanent surfacing solution subsequent to further public consultation.
Council leader Gordon Matheson said: "The people of Glasgow were very vocal throughout the design competition that they did not want a radical redesign of the square.They wanted the statues to remain, the grass to stay and the red tarmac to go. We listened to their views and have responded."
The latest plans emerged as Audit Scotland announced it was conducting an investigation into the £90k design contest organised by GCC and the RIAS as part of its annual audit of the Council.
The RIAS have subsequently sought to distance themselves from the fiasco by pinning the blame on Matheson, writing in an internal report: "… from his initial comments at the first judges meeting onwards, it appears that, for whatever reason, Councillor Matheson had selected his own winner at the outset and reasoning by a very experienced group of judges did not persuade him otherwise....
"The subsequent decision to breach the promise inherent in any such process, albeit arguing that this was in the "public interest", resulted in a very significant waste of public and private resources. This competition brought the judges, the profession, the Incorporation and the City of Glasgow into significant disrepute."
A GCC spokesperson told Urban Realm: "We don't have any comment to make on the criticisms of Cllr Matheson."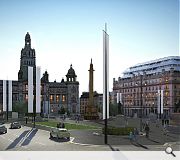 Back to March 2013