Revised Caltongate plans unveiled
March 14 2013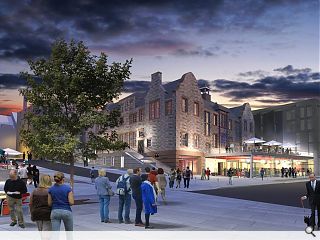 Allan Murray Architects have drawn up revised plans on behalf of Artisan for a mixed use development of Edinburgh's Caltongate following a
period of public consultation
.
Proposals for the News Street/East Market Street area entail the provision of new homes, hotels, shops and offices for the key gap site.
This will preserve historic properties such as the Canongate Venture Building, Old Sailor's Ark and the Jeffrey Street Arches whilst reducing the overall massing and height of earlier plans drawn up by Mountgrange.
This includes more public space and a reduction in mass of the more prominent commercial blocks to create more intimate spaces.
Lukas Nakos, Artisan's managing director said: "During the last year, we have listened to a huge variety of views and opinions on the development of the site, and heard impassioned arguments relating to its unique importance, setting, heritage and community.
"Our new vision reflects this varied and dynamic consultation process and we feel we now have a proposal which balances ambitious and exciting commercial priorities with a genuine understanding of the area's community and civic context."
A public consultation on the plans is being staged within the Canongate Venture Building today until 20:00 and again on Saturday until 12:30 ahead of a formal planning application later in the year.
Back to March 2013