Paisley Abbey Fourth Cloister project goes in for planning
March 12 2013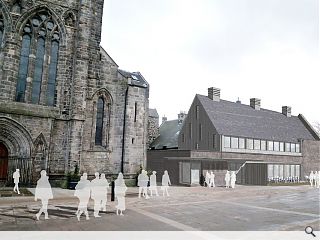 Plans to reinstate a quadrangle at Paisley Abbey through construction of a fourth cloister have been formally submitted to Renfrewshire Council.
The £2m project will provide new visitor facilities and community space on the site of the former fourth cloister, which was demolished in the 1870s as part of a Victorian road widening scheme.
Designed by Simpson & Brown alongside Nick Wright Planning the scheme will not only reinstate the medieval monastery's former footprint but also act as much needed fillip for Paisley town centre.
Once complete the structure will act as a new entrance to the Abbey and will accommodate a café/restaurant and exhibition space and will incorporate medieval stones in its construction.
Jenny Humphreys, Simpson and Brown architect, said "We are delighted to be involved in such an important project. We have worked closely with the Abbey to develop these proposals, to ensure that it meets all the varying needs placed on such a building. The submission of the planning application is a key stage, and we look forward to the next stage and seeing it come to fruition."
This year is the 850th anniversary of the Abbey complex, birthplace of the Royal house of Stewart.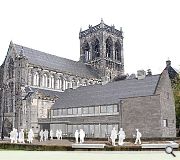 A decision will be made on the proposal over the coming months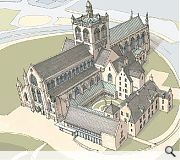 paisley Abbey was founded as a Cluniac Monastery in 1163
Back to March 2013