First international Maggie's Centre to be unveiled in Hong Kong
March 5 2013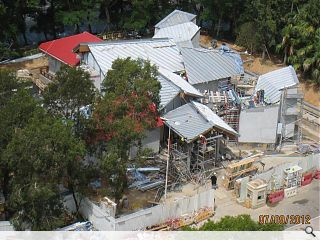 The wraps will be taken off the first Maggie's Centre built outside the UK this Thursday with the official unveiling of Maggie's Hong Kong.
Incorporating a series of pavilions arranged to encourage movement between the interior and the landscape the centre features rooms which either open out onto garden spaces or private terraces.
These outdoor areas have been designed by Lily Jencks in the Suzhou tradition.
Gehry, who has reprised his role as Maggie's designer following his work on Maggie's Dundee, said: "Maggie was bright and sunny and open and fun and whimsical and smart as hell. She was a real creative spirit, she had a healthy curiosity and she tried things, and in a sense I emulated her.
"The building has feelings which I hope engender community activity, and that it's comfortable for the patients to be there. It's respectful of Chinese architecture and motifs. I hope it's not copying anything Chinese or architectural, but I hope it's very respectful of them.
"I was going through the loss of a daughter while I was designing the Centre. I think you sort of suck it up and hope to make something that is soothing and respectful and hopeful. There's always hope, it's not a dead end."
Landscape designer Lily Jencks added: "These intimate gardens represent the macrocosm of the universe within the microcosm of a landscape, bringing an awareness of man's place in nature. This early integration of landscape form and building has created a complex relationship between the man-made forms and naturalistic garden setting."
A further four international Maggie's centres are planned through to 2017 commencing with a facility in Barcelona.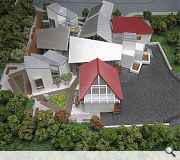 A complex roof structure tops the build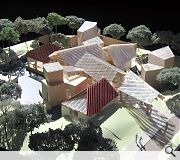 Outdoor spaces have been designed by Lily Jencks in the Suzhou tradition
Back to March 2013