Gordon Murray outlines post-Carbuncle future for Cumbernauld
February 4 2013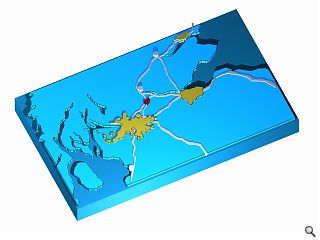 On the eve of judging for the Carbuncle awards the Cumbernauld Environmental Society have staged a conference looking at how best Cumbernauld town centre might be regenerated – and head off the possible award of another Plook. Amongst the delegates was architect and Professor Gordon Murray who delivered a summary of the research and design work which he and his students have been involved with for the problematic New Town. Below is a transcription of his talk:
I was born in Airdrie and I've lived in Airdrie all my life - I thought if I said that early on I'd have an affinity with one or two people here! As a schoolboy in Airdrie there were two buildings which had an impact on me and encouraged me to become an architect, Cumbernauld town centre and the South Lanarkshire Council buildings, I've been in love with the place ever since.
This is the front cover from Architectural Design in 1963, fifty years ago, it's a reminder of what is Cumbernauld's history, it's also a reminder that Cumbernauld was built as a town centre. It wasn't built as a retail centre. It wasn't built as a shopping centre; it was built as a town centre. It is the only collective memory of the town that exists. Everything else that other towns have like a library, police station or hospital were all encapsulated into this building under the original design.
It was such an important building for its time that architects came from all over the world to look at it. Kenzo Tange when he was building the Tokyo Olympic buildings came over, Lewis Mumford the historian came over because, of all Scotland's town centres, it was seen as a radical, transformative experience.
As both an architect and an academic I've never come across anyone who has never said it was a fantastic place. Yes there is criticism of it, yes there have been changes over the years but everybody thought it was a fundamentally important place to be.
Cumbernauld was designed in the form of a medieval walled town and part of the problem has been the idea has never been followed through. It's always been frozen at a point in time. The potential it had for developing as a town centre on the basis of the diagram created in the original concept was I think quite powerful and quite strong.
There is a fantastic archive in South Carbrain where you can build up an archaeology of the town using its base information and it allows you to understand the logic that's behind the town centre and examine where the potential and difficulties might lie. Part of the problem has been the accretion over the years of various bits and pieces to the town centre so a lot of the legibility of the original diagram has been lost as a consequence.
In terms of the history of Cumbernauld you can't get away from that underlying archaeology in some form, the collective memory that everyone has of Cumbernauld is embedded in that diagram. In Linlithgow, Bo'ness, or Airdrie there is a collective memory too. People say 'oh do you remember 30 years ago when that shop wasn't there, that street wasn't there.' A collective memory builds up and that's the only thing we've really got to hang onto.
One of the things we started doing was try to unpick the archaeology of the town centre and how it was originally constructed and what the elements in that were to see if there were any relevant and real or whether there was something there that was so buried and so obscure that there was no reason for it to remain.
We found that the structure was massively overdesigned so that you could put in a cinema, or a library requiring extra loading and the building would deal with that. It was built for its time so that route through the building east/west and north/south were clear but a lot of that has become obscured over time.
When we looked at the original town centre there is also what I call the second town centre to the north of the dual carriageway and the Antonine Centre. The Antonine Centre became the focal point for the premier shops in Cumbernauld as shops in the original town centre moved north, leaving it sitting with nothing in it. This led us to investigate the night and leisure economy and how that might fit in. If we were going to do anything with the town centre it wouldn't be about retail, it would be about leisure - creating a place that people want to remain in.
Rather than working or living in Cumbernauld and then going into Glasgow for some form of leisure activity, people in Airdrie might actually want to come to Cumbernauld. In fact when I was 15 I wanted to come to come to the bowling alley that was at the top of the town centre, principally because I could get in at 15 and get a pint.
By opening it up we could take it back closer to what it was originally and introduce complimentary uses to other parts of the town centre. Changes in legislation in how you deal with smoke and escape in a town centre changed over time and we felt we could open up the development to a greater degree with large open spaces and bridges across, relocating the library and introducing a cinema to stimulate this as the heart of the town centre.
The problem has gone beyond the original 1950-60 town centre to the wider context that we've got today and how we can actually knit the buildings back together. I think it's more about place making and public realm than it is about encouraging people to come back into the spaces between the buildings as much as it is about the buildings themselves.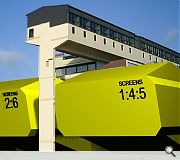 Murray believes that a leisure focus for Cumbernauld town centre is the best solution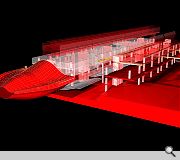 This 2005 proposal rebuilt Cumbernauld from the ground up in CAD
Back to February 2013