JTP, Gillespies & Alan Dunlop place third in Shenzhen design competition
|
Send to friend
January 30 2013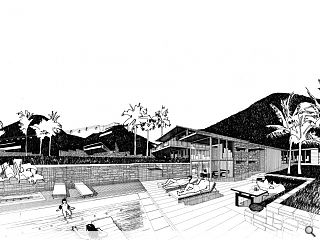 A collaboration between JTP Architects, Gillespies and Alan Dunlop Architect has placed third in a design competition after being pipped at the post by two proposals from Shenzhen Design Institutes.
The
competition
was staged in a bid to develop a tourism blueprint for the Dapeng Peninsula of Shenzhen in Guangdong, China.
The 150 hectare region encompasses 120km of coastline, Kuanyinshan Mountain and Mirs Bay, all of which offer vistas toward Tung Ping Chau and Hong Kong.
Working in tandem with a tentative conservation area for the region the brief called for the creation of an ecological resort in harmony with local biodiversity.
Dunlop said: "I've been invited by the Mayor to Guangxi, near Vietnam and Liuzhou to visit the Guangxi Zhuang Autonomous Regional Committee and also the Liuzhou Urban Planning Bureau. In China, there is a 'Guanxi' which means relationship or bond. Very important when working with Chinese clients and something I'm looking to develop.
"The Chinese client will consider Guanxi in any relevant relationships and projects, so the Shenzhen Institute had the advantage , still we came very close and it was a very positive experience working with JTP and Gillespies ".
The same partnership is currently bidding for the development of a mixed use project in
Shenyang
.
Back to January 2013