River Dee suspension bridge to create new Cairngorm gateway
|
Send to friend
January 10 2013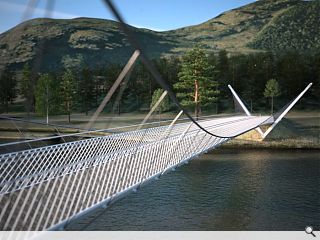 Plans to erect a £1m pedestrian footbridge and cycleway connecting the Highland village of Braemar to the Cairngorm National Park have emerged ahead of a detailed planning application, expected shortly.
Designed by Moxon Architects with Flint & Neill structural engineers for Braemar Community Ltd the new crossing spans the River Dee, introducing a permanent fixed link for the first time.
Grounded in the suspension typology of earlier Victorian footbridges in the area it stretches to 85m in length the new bridge will be suspended within a cable net 'valley' of inclined hangers which Moxon attest will provide a unique spatial experience and imbue a high degree of transparency when viewed in elevation.
In their design statement the practice wrote: "The catenary cables are located beyond and out with the line of the bridge at the abutments while meeting the deck at midspan. The inclined geometry provides a degree of lateral restraint to the deck, stiffening the structure and in combination with the pre-cast deck reducing the need for additional dampening in the structural system.
"The 'raking V' pylons at either end of the bridge define the geometry of the suspension net, marking the abutments of the bridge and signalling the structure as a gateway to the wilderness area."
A low-profile deck will be formed from white pre-cast concrete units to ensure simplicity of construction and maintenance.
The bridge is also designed to cater for horseback traversal, necessitating a number of unique design solutions such as harnessing the parapet to provide a solid visual barrier when looking along the bridge or toward the waters surface.
Back to January 2013