'Shovel ready' Egyptian Halls redevelopment wins planning
December 20 2012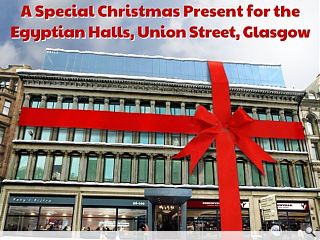 Derek Souter, the developer behind the planned redevelopment of Alexander Thomson's Egyptian Halls to form a new hotel, is celebrating an early Christmas present after Glasgow City Council confirmed that the latest
planning application had been approved
.
The application was fast tracked following collaboration with Historic Scotland, project architects TMP and TPS planning consultants.
With listed building consent likely to be granted early in the New Year Souter describes the project as 'shovel ready', but must still plug an estimated deficit of between £4m and £11.5m in the £20m scheme before this can happen.
Should financing be arranged Souter states that work to transform the upper levels of the building into a 114 room hotel and remodel the ground floor for bar and restaurant use, could commence 'immediately'.
Souter said: "Early in 2013 it's the combined responsibility of all project stakeholders to deliver the self-financing funding package, which both preserves and returns to commercial sustainability the Egyptian Halls after a 32-year impasse."
Back to December 2012