Oscar Niemeyer passes away aged 104
December 6 2012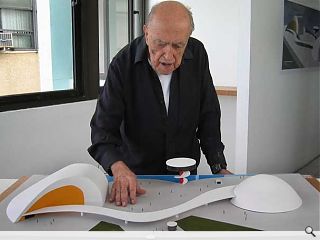 Oscar Niemeyer, the Brazilian architect famous for designing some of his country's most important government buildings in Brasilia, has passed away in hospital aged 104.
Inspired by the graceful curves of the fairer sex Niemeyer's signature style moulded brutal concrete into softer curves, sweeps and
The flamboyant Brazilian was cut from the same cloth as Le Corbusier and inspired a range of contemporaries notably Jack Coia, Isi Metzstein and Andy MacMillan.
Tributes have been pouring in all morning from the likes of Kieran Gaffney who described him as his 'hero' and Tim Abrahams who tweeted: 'No better testament to his vision than the fact that the BBC is still calling Brasilia futuristic.'
A memorial service to the father figure of modernism will be held in Brasilia's presidential palace later today.
Back to December 2012