Clyde Blowers extension secures planning approval
November 27 2012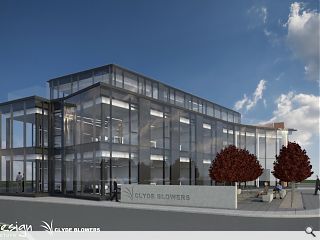 A £2.75m extension of Clyde Blowers, the engineering conglomerate, has secured planning permission from South Lanarkshire Council.
Conceived by Inkdesign Architecture the project entails extension of the existing main office building of the East Kilbride plant and doubling the footprint of the factory to over 1,800sq/m.
The first phase of that work, a £120k refurbishment of the existing office space, is scheduled to complete this week.
This follows Inkdesign's delivery of a curvaceous 'Ultimo' bra inspired head office for lingerie tycoon Michelle Mone elsewhere in the New Town.
Maurice Hickey, Inkdesign's MD, said: "Inkdesign Architecture is considering expanding our own office from the south side of Glasgow into the Merchant City area which would enable us to take on more staff.
"We hope that the refurbishment we are completing this week will be the first phase in a major extension to Clyde Blowers Capital's main office building."
Jim McColl, CEO of Clyde Blowers Capital, added: "Inkdesign's drawings for the proposed extension reflect my vision of an iconic headquarters building befitting our position as a global company based in Scotland."
Work on the project is expected to start in the spring.of 2014.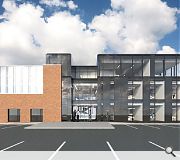 An atrium space providing space to exhibit the work and history of Clyde Blowers is also provided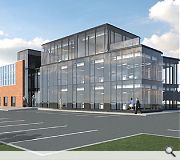 The pavilion offers panoramic views of the Campsie hills and beyond
Back to November 2012