RSA reveal architecture open exhibitors
|
Send to friend
November 21 2012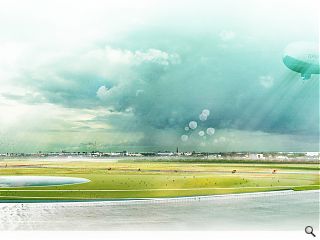 The Royal Scottish Academy has revealed the line-up of exhibitors who will participate in the institutions first ever open submission exhibition exclusively for architecture, each of whom will showcase a range of digitally presented models, drawings and other 2d works.
They include Alan Dunlop who will be showcasing two drawings; a cross section of the River Clyde for his South Rotunda project and an aerial perspective of Edinburgh University's biomedical masterplan and Gross Max, who will be showing off their
Templehof Park work
.
GMA | Ryder will also participate, with Chris Malcolm displaying his drawing work for a new
Grampian Police custody centre
.
Dick Cannon and Alan Pert, joint conveners of the exhibition, said in a statement that the exhibition "...presents a unique opportunity to stimulate debate and showcase a broad mix of topical projects from a number of emerging practices alongside work from some of Scotland's best architects which reflect current architectural practice in Scotland and further afield."
The exhibition opens on November 24 and will run until December 16 at the RSA Lower Galleries, the Mound, Edinburgh.
The full list of those exhibiting is as below:
Ian Alexander, JM Architects
Ross Anderson
Daniel Bär, Dualchas
Collective Architecture/ Toby Paterson
Dress for the Weather
Elder & Cannon
Critical Dialogues (Scotland + Venice)- Do Architecture, Jonathan Charley, Stone Opera, Pidgin Perfect, GRAS
ERZ Limited
Alan Dunlop Architects Ltd
Martin Flett
Konishi Gaffney Architects
Anna Gibb
GROSS. MAX.
Anna Kaczmarska & Lucy MacKenzie, George Watt & Stewart
StudioKAP
GMA I Ryder
Graeme Massie Architects
Richard Murphy Architects
Nick Paterson, Paterson Architects
NORD Architecture Ltd
Keppie Design
Ian Springford Architects
Sutherland Hussey Architects
John McAslan & Partners
Camerson Webster Architects
David Vila Domini & Conrad Wiedermann, Eightyseven Architecture
Page/Park Architects
Fergus Purdie
Reiach and Hall Architects
Andrew Macpherson
OMA
Gareth Hoskins Architects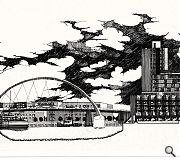 Alan Dunlop will be exhibiting this cross section of the River Clyde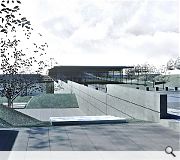 GMA | Ryder will be exhibiting their Aberdeen Criminal Justice & Custody Centre
Back to November 2012