Urban Realm editorial breakfast points the way ahead
November 13 2012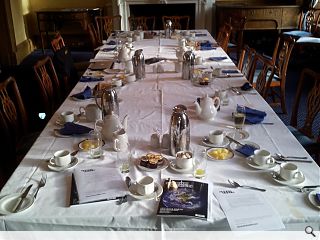 Urban Realm has staged its quarterly editorial gathering at Edinburgh's Royal Scots Club, a spirited early morning debate over the future of the built environment fuelled by plentiful bacon and eggs - organised with the kind assistance of Thrive.
Chaired by Urban Realm editor John Glenday the event discussed the editorial direction of UR in the months ahead with suggestions ranging from a radical rebrand to simply 'Realm' -to better capture rural developments, to a better balance of reporting between positive and negative issues.
Many in the room acknowledged that the back-stabbing and in-fighting previously prevalent across this websites comment section (now pre-moderated) could be damaging but valued the freedom to speak freely. It was also felt that more editorial and opinion pieces would enhance content, as would involvement of more 'real' people out with the silos of particular professions.
Turning toward the magazine suggestions for investigation ranged from the future of the architectural profession, which Peter Wilson of the Wood Studio predicted would cease to exist in two years if nothing changes, to Edinburgh's Granton Waterfront. Here 3DReid's Neil de Prez and Jonathan Gotelee of Purcell Miller Triton testified to the real potential of the areas but asked, after five years of recession, 'what's changed?'
Glenday said: "Over the years UR has developed into a valuable resource for the profession, from our extensive buildings database stretching back to 2004, to our daily news updates, in-depth features, site visits, views and reviews.
"But UR isn't just about passive consumption. It can also be harnessed as a springboard to achieve individual goals and broader objectives, ensuring that the industry informs the wider news agenda in areas sorely neglected by the mainstream media."
Urban Realm's current editorial panel includes Richard Heggie of Urban Animation, Mark Chalmers and Chris Duncan of Mill Design. If you'd like to join them, and inform the future direction of this site, then get in touch with the editor via john@urbanrealm.com or call 0141 559 6087.
Back to November 2012