Live-build summer school celebrates successful debut
November 13 2012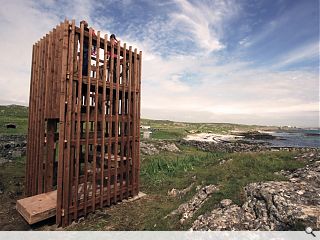 tog studio, the live-build summer school, has delivered its first completed work in the form of a temporary timber lighthouse on the Isle of Tiree.
Established by a design team including architects from the local Roots Design Workshop, tog studio is named after the Gaelic word meaning to 'build', 'raise', 'educate' and 'excite' and is intended to combine practical, cross-disciplinary experience amongst architects and engineers to improve building standards.
Built at Hynish, a former base for stonemasons constructing Alan Stevenson's Skerryvore lighthouse, the modern timber interpretation was realised through the labours of 12 students and practitioners over a one week period in June.
It then stood as an observation platform for a time, giving locals an elevated taste of the surrounding island landscape.
Micheal Holliday, architect at Roots Design Workshop and co-founder of tog studio, said: "We set up the tog live-build summer school for three reasons; to teach designers about the practical realities of construction, to demonstrate the importance of integrating architecture and engineering, and to create a beautiful structure. Our experience of building the lighthouse with old and new friends led us to believe that these ambitions had been met."
Lynne Cox, co-founder of tog studio, added: "I believe tog studio will have a profound impact on the way young designers think about construction, and I hope that we build upon this success to deliver a lasting legacy of contemporary built projects in Scotland."
The project has belied its modest scale to come to international attention after being captured by the film-maker Martin Glegg and screened at the Architecture and Design Film Festival in New York. It also recently picked up a GIA award for best 'small works'.
Back to November 2012