Groundworks commence at Leverndale Hospital psychiatric unit
November 12 2012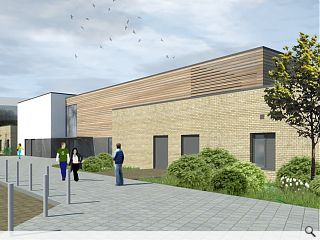 NHS Greater Glasgow and Clyde have commenced construction of a £7.5m Adult Acute Admissions Unit at Leverndale Hospital.
Construction group Robertson have been tasked with replacing an existing facility at the Southern General the new build unit will provide treatment for patients with severe mental illness through provision of 48 single rooms with en-suites and a therapeutic space.
Modern treatment rooms, office space and garden areas will also be provided.
Designed by macmon the new unit will be clad in brick and stonework and incorporates a gas fired micro combined heat and power system and an electrically powered air source to target a BREEAm 'Excellent' rating.
Completion is scheduled for August 2013.
Back to November 2012