Maggie's Gartnavel wins Andrew Doolan award
November 9 2012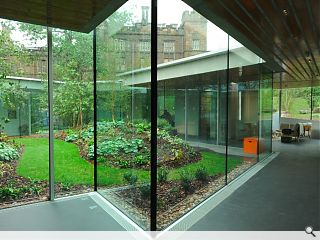 Dutch architects OMA have been awarded the Andrew Doolan Best Building in Scotland Award 2012, seeing off 14 shortlisted projects to claim the prize at a special ceremony held in the Scottish Parliament.
The design team received a gold medal cast by goldsmith James Brent Ward and a cheque for £25k in recognition of their efforts, the richest prize in UK architecture – thanks to support from the Scottish Government and the Doolan family.
OMA generously agreed donate their cash prize to the cancer charity after picking up the award.
In their citation the judging panel; chaired by Andy McMillan, enthused: "This is an extraordinary building – a place of calm, simultaneously welcoming and open. Maggie's Centres provide support for people with cancer, their families and friends. Exceptional architecture and innovative spaces make people feel better.
"This single-level building, a ring of interlocking rooms, is close to the Beatson Cancer Centre. The spaces feel casual but allow for privacy. The approach is about modest external expression, embracing a courtyard garden to generate a unique place of gentle contemplation and an exemplary caring environment."
Responding to the news Maggie's Chief Executive Laura Lee said: "It is an enormous pleasure to have won the Doolan Award for our Maggie's Centre in Gartnavel and incredibly generous of OMA to donate their prize to us. Our Centre visitors regularly tell us how much they enjoy the building because it is welcoming, light and spacious.
"OMA has done an incredible job in creating a Centre that facilitates our programme of support as well as making our visitors feel welcome, safe and valued."
Serving on the judging panel were Ian Gilzean of the Scottish Government's Architecture and Place Division, Kerr Robertson of Glasgow City Council and Daphne Thissen Hon, cultural attache, the Embassy of the Kingdom of the Netherlands.
Image taken by Charlie Koolhas, OMA
Five projects were also singled out for a special mention. They were:

Corinthian Club
, Glasgow
G1 Group

Fore Street
, Glasgow
Hypostyle Architects
Heathfield Primary School
, Ayr
Holmes Miller
House at Boreraig
, Skye
Dualchas Building Design
Scottish National Portrait Gallery
, Edinburgh
Page\Park Architects
Back to November 2012