Steelcase Solutions open Glasgow HQ
November 8 2012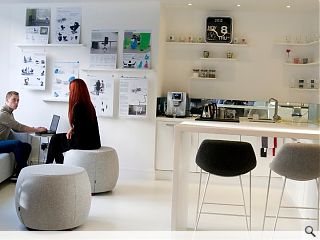 Workplace interiors specialists Steelcase Solutions have today opened their new headquarters on West Regent Street, Glasgow, as part of a major expansion of the business.
The new office has been opened in a bid to cater for the firms growing workload as businesses increasingly look to upgrade their office estates to boost competitiveness.
Steelcase Solutions have recently signed contracts with BP, Exxon Mobil, Chevron, HSBC, Hilton, RBS, Lloyds and Cigna and have also won a major contract to provide products and services for
Scottish Power's St Vincent Street HQ
.
Designed to accommodate all types of working the flexible space incorporates a range of different interconnected spaces from soundproofed pods for individuals through to a central meeting room with tele presence capabilities.
Lawrence Morison, Managing Director of Steelcase Solutions UK, said: "The fact that we are now seeing more companies investing heavily in their real estate adds weight to the evidence that confidence is returning to the business community in Scotland. While we are realistic about progress and the economic climate remains tough, there is reason for optimism and we as a company want to be part of that."
Steelcase Solutions has existing offices in London, Birmingham, Manchester and Leeds.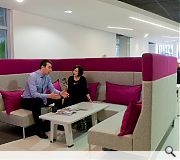 Steelcase has been in operation for over 100 years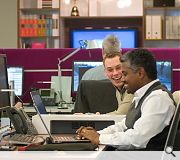 Working environments have been designed to be as flexible as possible
Back to November 2012